Former Student Dr Mark Kruse Visit 2018
August 10, 2018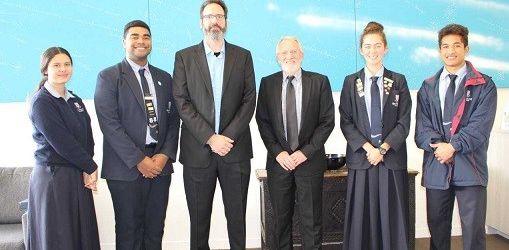 ---
Recently our senior students had the privilege of having a former student, Dr Mark Kruse speak to them at senior assembly. Dr Kruse is a former student of the school having attended from 1978 to 1982. In his final year at the college, Dr Kruse was presented with the Proxime Accessit award. Dr Kruse went onto Auckland University and completed a Masters in Science (MSc) with honours in nuclear physics. After completing his Masters degree, Dr Kruse went to the United States and completed a PhD at Purdue University, West Lafayette, Indiana.
In 2001 Dr Kruse joined the staff of Duke University where he is currently Professor of Physics and a Bass Fellow. Duke University is ranked consistently in the top 25 universities in the world. Dr Kruse is a world leading scientist studying particle physics and in recent times has been studying the Higgs Boson – an atomic particle which was predicted to exist in the early 1960s but was not discovered until 4 July 2012 – sometimes referred to as the 'God Particle'. Dr Kruse has had a significant academic career and was invited back by the University of Auckland on a distinguished visitor fellowship and recently gave a public lecture on "The State of Our Fundamental Understanding of the Universe". At the assembly, Dr Kruse was presented with a One Tree Hill College Golden Jubilee Award in recognition for the outstanding contribution he has made to society since leaving the college.
Click the link below to watch Professor Mark Kruse talk to Jack Tame on TVNZ1 Breakfast Show about Cern LHC.