Maori Awards Evening 2018
October 26, 2018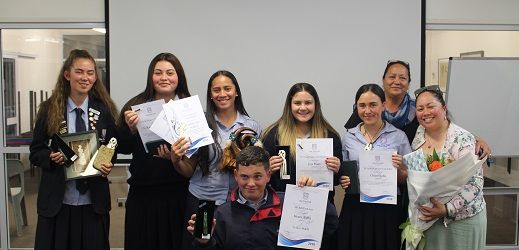 ---
These awards recognise our high achieving Māori students from Year 9 to 13.
The highest achieving Māori students for 2018 are: 
Year 9 Serenity Clayton 
Year 10 Celina Rangi-Bartlett 
Year 11 Shante Gribble 
Year 12 Mystique Romana-Hiko
Year 13 Ariana Guptill 
Prestige awards:  He Tohu Watea – Shahlin-Lee Wilson awarded to a student who is on our mentoring programme, who is striving for excellence and is tracking well at NCEA Level 2.
He Tohu Manawanui – Opal Manuel awarded to a student who has faced adversity, but does not let this deter their attitude or them achieving at a high standard.
He Taonga Pūmau – Ariana Guptill Awarded for outstanding contribution, leadership, high achievement and commitment to Tikanga and Te Reo Māori.