Mr Williams Teaching Excellence Award
March 14, 2018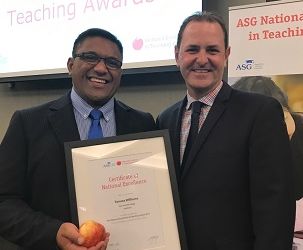 ---
On February 23rd, Curriculum Leader of Science Mr Tarewa Williams was presented with a National Excellence in Teaching Award during a special ceremony held in Wellington. This was a remarkable achievement as only two of these awards are presented to New Zealand secondary school teachers each year. They are awarded by the National Excellence in Teaching Awards Board (NEiTA) which is significantly educational establishment in Australia and New Zealand. Furthermore, Mr Williams was complimented by Minister of Education, Chris Hipkins, on his outstanding contribution to education throughout his many years of exceptional teaching. Mr Williams himself was humbled and grateful for the nomination as it was quite a shock for him. He mentioned that this award has had a great impact on him and his whānau and it has given him the determination to work even harder to continue to maintain the positive learning environment in his classes.
Mr Williams states. "Teachers, need to develop strategies for strong teacher and student connections, because this is so important in order to achieve well-earned and exceptional results." 
Us students would like to congratulate Mr Williams on this amazing achievement and definitely look forward to working alongside him throughout the rest of 2018 to achieve our Level 2 NCEA. Congratulations, Mr Williams.
Hanna Ali- News Media Team