One Tree Hill College Futsal 2018
October 24, 2018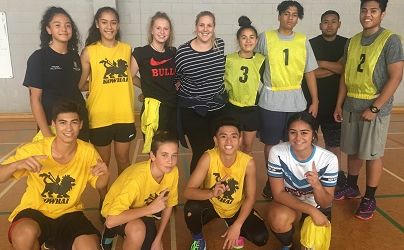 ---
One Tree Hill College had their annual whanau futsal competition which is where all four whanaus compete against each other in this indoor modified football game with 5 players in each team taken place in the school gyms during lunch times for students and staff to be able to come and support their teams. 
Every year whanau futsal is something many football players across the school look forward in taking part in. The competition requires two junior players (one female and one male), two senior players (one female and one male) and one more student to make the team of five. They represent their whanau competing against other whanaus in this inter house competition. The competition is kept quite diverse in our school so that it is fair amongst all students in every whanau and everyone is given the opportunity to participate.
Year 12 student and futsal participant, Farhan Azim from Tawa said he believed it to be a fun time. He was clearly disappointed that they lost the final game which would have made them win the whole even but throughout the week he said it was a fun experience. Overall he believes everyone had a good time even though he didn't like the results because like many passionate futsal players, he hates losing. However, as all great sportsmen he thinks Kowhai outplayed them and deserved the win. The school's first XI football player sticks to the "no risk means no reward" motto to keep him motivated for all his games which led him to win the golden boot this year.
This year Kowhai took the first place, as Tawa lost the finals putting themselves as second place with Miro following behind them as third and lastly Hinau placing fourth. This is Kowhais second year of success for whanau futsal. However, this sport is quite unpredictable and we will just have to wait till next year to see if kowhai can continue their winning streak or if another whanau takes the winning title off of them in 2019. 
News Media Team - Zarishta Khan