Pasifika Awards Evening 2018
September 28, 2018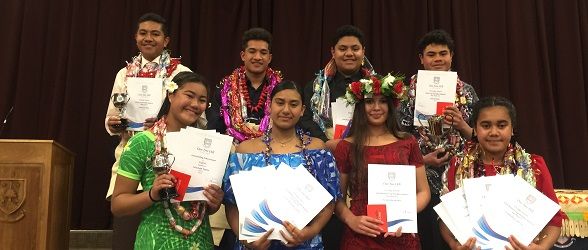 ---
On Wednesday 26th September we enjoyed celebrating our Pasifika student successes at our annual Pasifika Awards Evening - what an incredible night of celebrations. It was wonderful seeing families engaging with the college and celebrating their children's success. As well as various awards being presented, we were also treated to student performances in media studies, spoken word, and music.  
Congratulations to all award winners for the hard work and dedication that they have applied to their studies this year. The Marilyn Wales Auditorium was full to capacity showing the strong support the College has from our local Pasifika community.

Our Prestige award winners were:
Year 9 – Solomone Mahe & Foakautu'u 'Oto'ota
Year 10 – Salu-Faith & Tiare Hirovana'a-Silva
Year 11 – Iele Ieremia & Kealani Jacquemet
Year 12 – Josephine Kuraia & Hailee Tamore
Year 13 – Aisake Tafea & Douglas Hoskin

A special thank you to all the staff that helped organise and support this event. Your support is always valued.