Pop Up Globe 2018
March 12, 2018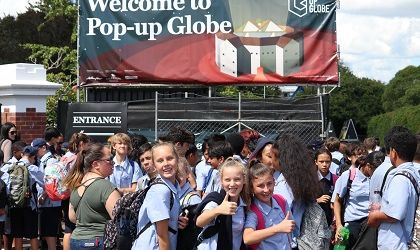 ---
Last week the One Tree Hill College Year 9 students and their Citizenship Class teachers went on a trip to the Pop Up Globe in Ellerslie to see a rendition of Shakespeare's Macbeth. The trip started with a meeting in the auditorium followed by a short walk to the Ellerslie Racecourse where the Pop Up Globe Theatre was situated.
The show started, and it was amazing. The effects were fantastic and so real. In one scene the blood was so realistic that it actually looked like someone had been murdered. The story was portrayed perfectly. It was such an enjoyable experience that time flew by and it was soon time to walk back to school.
A special thanks to all the staff that helped make this trip possible and all the people at the Pop Up Globe because without them this trip definitely wouldn't have happened.
Grayson Spittle - News Media Team