The 312 Hub - Onehunga Youth and Community
September 14, 2018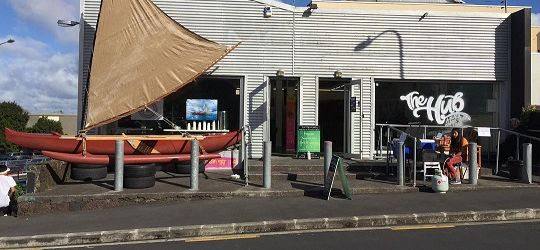 ---
At first glance the 312 Hub looks anything but the studio,art gallery, thrift shop and local hang out spot for local youth that it is. The Hub is promoting something completely different compared to its neighboring buildings, including the well-known 'Dressmart mall' which is across the road. Co founder Amiria Puia-Taylor and her siblings wanted to provide a space for youth in the Onehunga community. The space is designed for those who identify themselves as artists to create and express themselves without any barriers. 'We hook local artists and youth by using the 5 senses and we will do that by feeding you with opportunities and making sure you leave here feeling like you are a part of something much bigger than yourself'. The two-story building is very old and has had plenty of previous owners such as the well-known retail company 'Kathmandu'. However, the purpose and idea of its use today is only recent to the Onehunga region and community as this month the Hub is celebrating its six-month anniversary.
Two year 10 students from Onehunga high school, Daley Wilson and Mirianna come into the hub every day of the week working on their creative piece in the downstairs studio. Both girls have family connections who help and work close with the studio therefore automatically have access to the facility. These girls want to pursue art as a future career when leaving high school. While Miranna is interested in mandala art, Daley is considered amongst her peers as an all-rounder but her favorites are portraits and creating something that challengers her. 'we try to bring our friends from our school art department but this place just doesn't get the recognition it deserves, there should be more of us around'. The 312 hub gallery manager, Sabrina Puia- Tekii understands how hard it is for youth to stay in school and then go to university as it is not for everyone. 'I just want youth to know that a place like this does exist and art comes in many forms but just understand that we provide a positive space that lets you create whatever you want, freely'.The whole philosophy of the studio is to provide the tools for youth to create and embrace the idea of originality with or without schooling.
Although the Hub is for youth it has its doors open to all artists from different backgrounds it just gives priority to those in the Onehunga region and targets 15-24 year old. The Hub want to incorporate their youth into their creative space and within their business. To Co- founder Amiria 'it is important to let the youth have a voice in what goes on in their community, let them have a voice and not be afraid to use it'. With staff meetings every Monday the team at 312 Hub talk about what to improve and what Is going to happen throughout the week. The Hub have mentors who specialize in social enterprises and business which interact with the Hub as well as the young artists who come through. 'This allows young locals to take the opportunity to see how easy it is to become an entrepreneur away from processes that limit you, and make you realize that it is possible'. The mentors work closely with the Hub as they come in weekly looking at what to improve within the community as well as catching up with young artists. 'We are currently looking for young and local representatives to be apart of this hub and have a say in what goes on within the community'. The idea and purpose of the Hub not only targets youth but becomes one of the very few places dedicated to working with creative and young artists which makes it unique especially in the Auckland region. The hub encourages neighboring schools and 'wondering creative spirits' 'to express themselves and not feel shy to do what they love and are more then welcome to do so in our space we have created specifically for you'.
You can find the 312 Hub on instagram and facebook @the312hub and make sure you give a like and a follow or have a look for yourself at 1 Paynes Ln, Onehunga, Auckland and see the wonderful creative art that comes in many forms such as paintings, photography, clothing and much more as the Hub will welcome you with open arms and offerings of a a warm cuppa.
Jordanne Harder - Media Studies