Rocielli Fernando Scholarship Success
February 22, 2018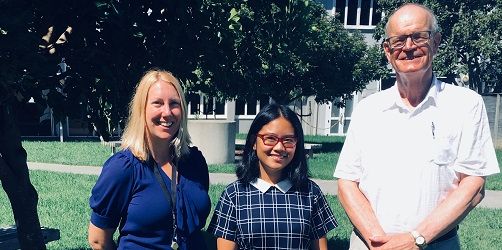 ---
Rocielli Fernando was awarded NZQA Scholarships in both Media Studies and Music. This takes great dedication throughout the year as Scholarship students must prepare in their own time and go beyond what is studied as part of their Level 3 courses.  One Tree Hill College has found success in Music Scholarship level over the past three years with Ariel Abiad (2015), Jonathan Abiad (2016) and now Rocielli Fernando (2017).  Media Studies was offered for the first time at OTHC at Scholarship level in 2017.
Rocielli said of the experience "I found it extremely rewarding to go further and push myself to delve deeper in the subjects I find the most interesting." To prepare for the exams Rocielli took part in scholarship classes with Mr Scott (Music) and Miss Mossop (Media Studies) every week expanding her knowledge and ability to think critically at scholarship level.
Music required Rocielli to submit a composition portfolio.  The Media Studies Scholarship consisted of three essays based on work done during the year, for example reflecting on the short film "Reed" produced as part of the Media Studies course.