Whānau Basketball 2018
May 14, 2018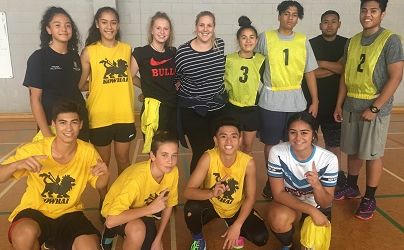 ---
Whānau Basketball for 2018 really brought our 4 Whānau's competitive spirit to the courts with some really outstanding skills on display with lead changes across both gyms every game.  The tournament was again played over 3 days in both our gyms starting on Tuesday, finals on Thursday and finally our All Star student team (who are selected by a number of qualified student rep players across the week) being played on Friday in front of a packed crowd.
This year defending champions Miro were not able to repeat last years heroics with beaten finalist Kowhai going through the week unbeaten and crowned 2018 champions.
All Star student team vs Dream Team staff game
Like the NBA All Star weekend and number of students were analysed and interviewed before being voted in to play our under strength staff Dream Team who were down on numbers and playing with only one sub (the students had 15 with 100+ supporters behind them) running freely and also at pace.  The first half was tough at first with our Dream Team struggling to get on the score board but also trying to play the game at students pace which was not a good idea for our hearts and tired legs.  We were up by one and the second half flew with our Dream Team getting into a good rhythm, setting screens, boxing out, picking and rolling and looking like we actually practised.  It was too much for an inexperienced yet fully fit student side losing 28-21 to the Replacements…yes we actually beat the students.
Final standings for Whānau Basketball:
1st Kowhai 
2nd Tawa
3rd Miro
4th Hinau