Word the Frontline
November 9, 2018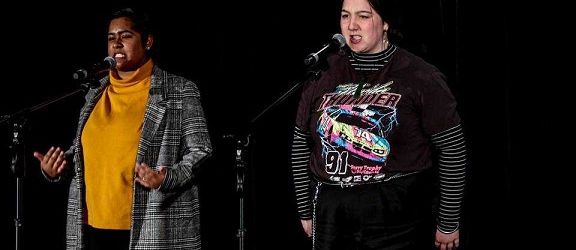 ---
I think Eminem understands. His palms? Sweaty. His knees? Weak. His arms. Heavy. The lights? Bright, as the crowd glares at him waiting for him to spit bars and drop bombs. One Tree Hills very own spoken word team know all about the nerves, anxiety and anticipation of performing.
Spoken word bridges the gap between performance art and rap music. Resulting in an expressive medium that allows poets to perform their spoken word poems in a space filled with those alike. This art form has a long history, dating back to Ancient times. Its introduction into the modern world begins in America, used by Civil Rights activists as a method of release, a way to exert their internal anger and hatred for those that mistreated their people in a safe space. From there it grew and grew into the international community that it is today, even finding a home here in Aotearoa.
Word the Front Line is a poetry slam. It's purpose being to "grow and engage the potential of our future leaders" They invite poets from high schools all around Auckland to participate, hone their skills, refine their craft and perform in front of large audiences. Starting in 2014 the event has gained traction, becoming bigger and bigger as it adds more schools to its list every year.
One Tree Hill College had a team of 5 enter for the first time ever this year. Team members included Juliette Leiataua, Jessica McKnight, Judi Barnard, Kery Nathan and Elisheba Nand. The all female squad had been working since Term 1, brainstorming, meeting and coming up with their spoken word poems. Team member Jessica McKnight says "It was so cool to meet these girls cause I never would have talked to them outside of this team and they're all amazing people." The team dynamic is definitely strong with the team, strengthened by their experience at the Slam Camp.
None of the girls had performed spoken word before but were well aware of its existence. "I always watch spoken word videos on YouTube but I never knew that things like Word the frontline existed" says teammate, Judi. Mrs Mosteller, the teacher in charge of the groups has praised the girls approach and interest in the competition, "It's really cool to see young people taking initiative and putting themselves out there."
The Slam Camp is a two day camp where teams from Auckland high schools come together to exchange ideas and thoughts, while writing poetry and making friendships with other school teams. Juliette Leiataua, the only Yr 13 in the group, says "The camp gives us a chance to mix with the other teams and brings all of the teams really close, so we leave with even more friends." The camp itself proves itself to be a sanctuary for some as many students find comfort in the art form and the vulnerability in sharing pieces that are incredibly personal provides a sort of therapy for some, making the Camp even more significant.
After the camp, the teams go into the first round. Here they go up against other teams in their pool taking turns performing pieces they had devised over the course of the year. They had obviously done incredibly well during the qualifiers as they had made their way to the semi finals. This would prove to be a massive test of their skill.
On the 11th of August at the Bruce Mason Centre, One Tree Hill's very own team of 5 would be competing for a spot in the Grand Finals at the Auckland Town Hall. One Tree Hill would be performing three pieces, with Jessica McKnight going first. She spoke about White Privilege and its existence in the context of New Zealand society. A jarring and eye opening piece delivered with uncontained amounts of passion. Next up was a two piece from Juliette and Kery, they spoke on their personal struggles of being a Mormon in a society that constantly shoots them down. Another eye opening piece that really did put things into perspective in terms of religious discrimination and the struggles of remaining steadfast in one's beliefs when society is constantly against you. Last but definitely not least was Judi and Elisheba. They focused on body positivity, and the passion it was delivered with communicated the personal connection they both had to this topic. An emotionally charged piece that really did bring things home and force audience members to empathise with their words. Yet despite putting their absolute best foot forward, they came up short just narrowly missing out on the grand final. Their reaction to this loss showed how much this competition meant to them and the sheer force of their drive as a team to succeed. Their passion and determination was commendable and should be celebrated as it was a true testament to their motivation.
So what next? Where does one go from here? As I sit down with the girls and ask them about their next steps, Kery says "It's really only up from here. We know what we do well and what we need to improve, so we'll be fine." Their confidence and unapologetic attitudes convince me that these girls will be fine. The popularity of this competition will only grow, most likely seeing a rise in interest in this spoken word group. This team will continue to tackle issues that they can identify in our current society. From white privilege to body positivity, the endless topics that can be touched on in spoken word will only provide future teams with more material that is not only personable but also relevant. They will continue raising their voices, changing the world one poem at a time. Slim Shady should definitely watch out cause these ladies are standing up.
By Bai Buliruarua - Media Studies
Photo Credit - Word the Front Line organisation