Academic Excellence Awards 2019
March 25, 2019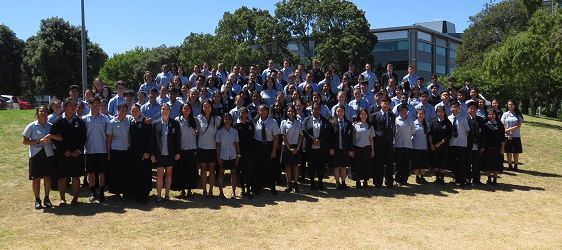 ---
The annual assembly to acknowledge the OTHC students who had attained high academic successes in last year's NCEA Level 1 and 2 assessments, took place recently in the college's auditorium. This assembly is a special occasion in the college's calendar, because it is a time for the One Tree Hill College community to celebrate the individual successes of our students.  At the assembly, 95 silver Merit endorsed badges at NCEA Level 1 and 2 were awarded. This marked the students' achievement of gaining 50 or more credits at Merit level in their respective year levels, throughout the course of the year.
Additionally, a staggering 62 gold Excellence endorsed badges at NCEA Level 1 and 2 were awarded - these students obtained 50 or more Excellence credits. Alongside these achievements, 3 scholarships from NZQA were awarded to two Level 3 students, meaning that they were placed in the top 3% of all students nationally. This was an incredible accomplishment proving that hard work and dedication will always provide the results you deserve, despite any challenges or obstacles that interrupt your journey. It is safe to say that OTHC has definitely made their mark by placing themselves in the top percentile of high achieving secondary schools. Principal Mr Coughlan reflects of these outstanding results, "These high levels of achievement underline not only the commitment and talent of our students, but also the high-quality teaching and learning that is taking place across our college". 
Overall, this impressive performance lifts the levels of achievement at OTHC even higher than last year, and will give this year's students the motivational drive to 'strive for even higher things'.
HANNA ALI
NEWS MEDIA TEAM