Japan Sports Forum 2019
July 5, 2019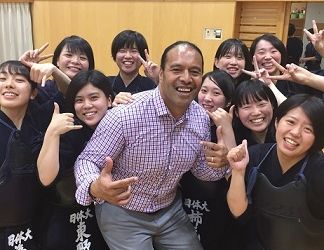 ---
In May 2019 Asia New Zealand Foundation gave the opportunity for 10 Physical Educators across New Zealand the experience of a lifetime to attend professional development in Japan experiencing teaching and learning in Japanese schools and universities, language, history, shrines and temples, transport systems, food, Olympic venues, sporting events and more. Landing in Tokyo excited and ready to begin our Japanese experience it was clear catching our express train to Shinjuku this was not the Auckland transport system I was used to.  Trains were on time, people moved in an orderly fashion without fuss or conflict even though the numbers using public trains was close to 8 million daily.  No pushing or bumping through stations or busy roads with thousands of people moving but movement that is seamless and efficient. Being in schools in Japan was definitely a highlight as it was an opportunity to share Te Reo Maori -traditional games with students in Japan but also discuss Physical Education and Health and how its taught in Japan. - Oizumi High School in Tokyo & Kita High School in Atsugi were two secondary schools we were able to share our culture and language with. 
Both schools had a very massed practice drill based system of teaching Physical Education which is a more traditional based teaching method and very humbling that students thought that I was a super rugby player?   Nippon Sports Science University was another institute we were able to visit and deliver some perspectives of Physical Education in New Zealand but also a rare opportunity to learn and practice the art of Kendo. Being able to visit and see the Olympic venues coming to life gave a real sense that Japan was in full swing of hosting some major events starting with the Rugby World Cup 2019, Olympics 2020, Paralympics 2020 and World Marsters Games 2021.  Another important aspect of our professional development was being able to see the culture and history of Japan.  Visiting the Senso-ji temple in Asakura where thousands of people pay tribute and visit daily, seeing the Meiji-Jingu Shrine in person really highlighted the closeness people in Japan have with their history and Culture with every Temple, shrine, museum and statue kept in pristine condition.
The sports events and stadiums we were able to visit also showed another side of Japan – first the Prince Chichibu Memorial Stadium home of the Sunwolves Rugby team we were able to see a national womens competition with some New Zealand woman being recruited to boast sides rosters.  Watching a live Baseball game at Zozo Marine Stadium home of the Mighty Chiba Lotte Marines where the cheering and chanting went to another level with both teams having a drum line and brass section backing the chanting throughout the game.  Lastly being able to attend a live Sumo Grand Tournament was another highlight for our trip seeing these huge athletes from around the world really work their craft was amazing…my photos say it all. Reflecting on the speakers we were able to listen to during the forum made me realise the calibre and level of contacts within the Asia New Zealand Foundation as we spent time with the Deputy Ambassador at the New Zealand Embassy, Cities and venues director for the Rugby World Cup, Deputy Mayor and Council from the city of Atsugi, Sports Marketing and Communications Manager for AIG who deals with many of the elite All Blacks, Sports Science experts from the Japanese Olympics, Principals, teachers and a range of rugby coaches from different levels across Japan. Many of the teachers and speakers we met who were Kiwi's shared how they got to Japan and most said through the JET programme (Japan Exchange Teaching Programme) and secondly after taking Japanese as a language at school and wanting to experience the culture and language first hand.  There are opportunities out there to experience professional development in Asia just like I did…as a teacher or a student – just look on the Asia New Zealand Foundation website. 
Arigatou gozaimasu.
- Mr Andrew Maea-Brown