OTHC New Food Technology Room 2019
March 11, 2019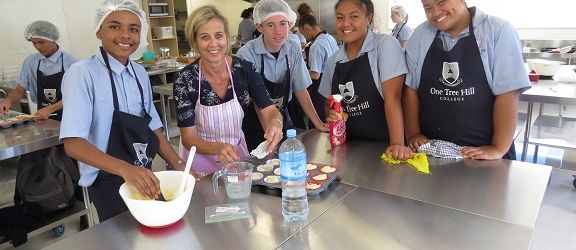 ---
The beginning of the school year always brings new students, new teachers and exciting new opportunities. And, this year, we have seen an exciting addition to the college's amenities - a brand new state-of the art Food Technology Room. Since returning to school this year, Food Technology classes have been in full swing with students and teachers alike making full use of the new building appreciating its space and it's up to date equipment. Year 12 student, Vincent Dada says of his experience of the new facilities.
"It is my first year taking Food Technology and I can say that the building itself is fresh and well-organized. The facilities are well maintained and is easy to access."
From the planning and on-going consultations, to getting approval from the Ministry of Education, Deputy Principal Mr Bettridge, oversaw the construction of the new building. He described the two year process as a 'complex' one. The idea for a new Food Technology Room arose when it became a concern that the then current room was just too small to accommodate the increasing demand of students wanting to take courses in food technology and hospitality. Needless to say, the new facility is much bigger, equipped with a main class for teaching food technology, nine cooking stations, and a side class intended for barista training complete with an outdoor seating area for students to serve their creations. "It's very spacious and the chairs are so comfortable to use and the equipment is convenient and easy to use", Jayvee Dela Cruz, a Year 12 Food Technology student enthuses.
In addition, to the wonderful indoor facilities, fresh herbs and vegetables are growing in an outdoor garden that will be used by the various classes. As well as the kitchen areas, the complex also has an ablutions block which can be accessed from the outside. These were installed for the use of those staying overnight in the neighbouring Te Puakiekie Marae. TIC of Food Technology Mrs Venter describes teaching in such a "bright, spacious room" as a "pleasure". She goes on to say.
"Students are enjoying being in a room with enough working space and equipment to comfortably complete their practicals. Thanks to Bettridge for the HUGE amount of work in getting us this amazing kitchen!"
ALICIA KUMAR - NEWS MEDIA TEAM