Parents and Teachers Meet 2019
March 25, 2019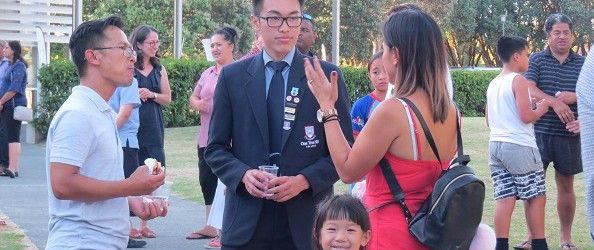 ---
High school is a major part of a student's education. As students we spend five years in school not only setting ourselves up for the future, but along the way, making lifelong friends and everlasting memories. Parents especially, want to be sure of the school that they have chosen for their child, and who their child will be taught by, and the environment that they will be taught in. With this in mind, an occasion was recently organised where both OTHC parents and teachers were given the opportunity to connect and gain a better understanding of who will be a part of their child's learning at the annual Year 9 Parents Information Evening and BBQ. The evening started off with an informative presentation on the school routines followed by a barbeque where both parents, teachers, and the wider OTHC whānau had the opportunity to mix and mingle informally.
As our Principal Mr Coughlan reflected on the evening, "Our intention for this evening is to strengthen the relationships between students, families and teachers. We are always so conscious that it is a nervous time for Year 9 students and their families, so we try and do everything we can to support their transition into the college." The evening was definitely a success as many of the parents left assured that their child was in good hands. Many expressed their gratitude to have had the opportunity to have the casual chat with their child's teachers as well as being given so much information about the college.
The evening went really well with teachers being so impressed with the number of parents that had taken the time to turn up to the evening.
PIYA HENTUA
NEWS MEDIA TEAM