One Tree Hill College Senior Prizegiving 2019
November 7, 2019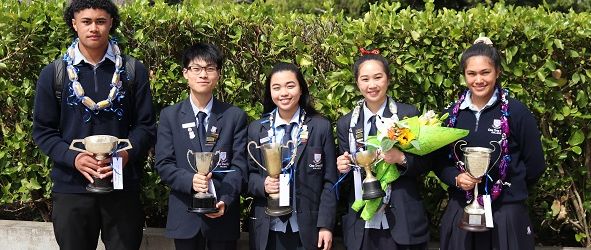 ---
On Friday 1st November we held our most formal event of the school year – the One Tree Hill College Senior Prizegiving. In front of a full auditorium, we celebrated the many successes of our senior students and also said farewell to our Year 13 students. On behalf of the entire One Tree Hill College community, I would like to congratulate all award winners and wish our Year 13 students every success as they begin their journey beyond school.
The college's most supreme awards were our Dux awards. The Dux Litterarum, for our top overall academic student, was Elyssa Maniti. Our Proxime Accessit, runner-up to Dux, was Andy Yang. These are both outstanding achievements from two very dedicated students. 
The Dux Artium for 2019, for the greatest achievements in Arts and Culture, was awarded to Jhaelci Reguerra. Our two most prestigious sporting awards are our Dux Ludorum for top male and female student. This year these were awarded to Kini Fonua and Beth Reid respectively.

At the ceremony, our Prefect team for 2020 was also announced and I congratulate them for their selection. The Prefects for 2020 are: Kim Acosta, Ruby Agwu, Tegan Amani, Isaac Cameron, Hannah Christini, Vincent Dada, Josaia E-Moala Aholelei, Maddie Edgecombe, Charla Fernando, Daxine Fiesta, Titiya Hentua, Matthew Hookings, Kyra Hunt, Iele Ieremia, Constance Isip, Kealani Jacquemet, Glory Laulala, Lulu Lino, Jessica McKnight, Tiffany Morales, Lee Ostler, Cheryl Petau, Tony Phan, Trevanion Phillips, Richelle Battan, Shukrullah Rezaie, Max Roskilly, Jerrett Sanchez, Hithik Singh, Reign Tuhoro, Olivia Vunileva, Anahera Webb, and Tanira Whata. The Head Prefects for 2020 will be selected in January next year.