Farewell Mr Barlow
June 15, 2020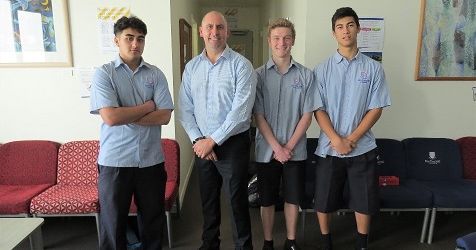 ---
Recently the College farewelled Deputy Principal, Mr Barlow. Mr. Barlow had served 12 years at One Tree Hill College arriving in 2008 to take up the position of CL of Physical Education. He worked hard over the first two years reorganizing the curriculum to make the physical education subject more appealing and appropriate to the needs of the students at the school. He also, during this time, took over the coaching of the 1st X1 Football Team and took them from bottom of the 1C to runners up in the 1B grade – this was a huge gain and resulted not only in other secondary schools taking note of the develop of football in the school, but also a huge growth in the sport at the college. "I am still very proud of establishing football as a recognized sport at the college, and all the success that we had both on and off the field," he reflects.
His dedication to the college and the interest he took in the welfare and success of the student community led to him being appointed as acting Deputy Principal. This position was made a permanent one the next year. For the next eight years Mr Barlow strived to make the students at OTHC successful both academically and on the sporting fields. His relationship with both staff and students, and the wider community was very firm and many positives resulted from this relationship. Throughout this time his passion for sport never waived, and so it was only natural that when the CEO's position at College Sport came up, he eagerly applied for, and won it. This prestigious position means that Mr Barlow now is responsible for running all the secondary school sport in the North Shore, Auckland and South Auckland areas.
On winning his new position he says, "I am passionate about sport and the organization of it to enable young people to develop themselves to the fullest. Being CEO of College Sport means I can now have a big part in achieving this."  Mr Barlow will be greatly missed by all because of the encouragement he has always given to all his work colleagues, students and associates. His outstanding 'northern humour' and the passion for helping our younger community grow will be hard to replace. "I have enjoyed myself immensely during my time at OTHC and found that the staff and students at the school are the best. I leave with very fond memories of the One Tree Hill College community", he reflects. We wish him all the very best for the future and for the new exciting challenges his new position creates.
But, it is not a final farewell to Mr. Barlow as he will still be seen on the sidelines of sporting fields around Auckland still cheering on and supporting our OTHC teams!! 
EUN MI ANAE & ANAHERA WEBB - NEWS MEDIA TEAM