One Tree Hill College Head Students 2020
February 12, 2020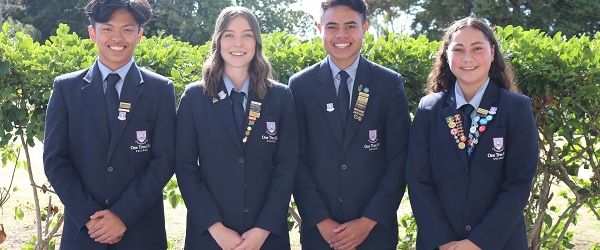 ---
One Tree Hill College recently announced the students who were selected to be our 2020 Head Prefects. This year, we are pleased to announce the honour of these leadership roles go to Iele Ieremia (Head Boy) and Jessica McKnight (Head Girl), assisted by Jarrett Ephraim Sanchez (Deputy Head Boy) and Tegan Amani (Deputy Head Girl).
With strong and worthy group of applicants for the positions available, it was no easy task for the College's management to make their final selection. At the packed senior school assembly, it was an unreal moment for the four students as Principal Mr. Nick Coughlan announced their names one by one. Following the announcement, all four felt emotional on stage as their peers dedicated a haka for their selection.  Head Boy Iele Ieremia felt extremely humbled by his selection as he believed that there were a handful of fellow students who were equally as capable for this role. "Every student was fully supportive of my appointment and it's because of their support that I am eager and determined to serve this school to the best of my ability," he said.  Meanwhile, Jessica McKnight expressed her gratitude for her selection as Head Girl. She said that she felt really blessed being selected for this position.  "It's something that I have worked really hard for and I feel so lucky that I get a chance to represent my school alongside some of my closest friends. I will make sure this year is as good as it can get," she rejoiced.
Each of the four Head Prefects' vision for this school year is to encourage students to get more involved in activities run by the school which includes whānau events, sports, cultural groups, cultural language weeks, music, and everything in between. Their goal is to make 2020 a year that everyone remembers.  Our Deputy Head Boy and Deputy Head Girl, Jarrett and Tegan, expressed their words of encouragement to the college's future young leaders. Jarrett said, "There is no better leader than someone who can connect and bring out the best in all of the people around them."  "Be yourself regardless of what influences may be put in front of you and push yourself to achieve your goals. We are all human and make mistakes so learn from them and continue to do you. Enjoy the journey and make the most of every opportunity," added Tegan. Despite of the immense pressure and extra responsibility that have been put upon their shoulders, we are confident that these innovative and excellent leaders will truly demonstrate the College's five school values throughout the year. And, be rest assured that One Tree Hill College will be with them throughout their journey working hand in hand to make this year a huge success. 
KIM ACOSTA & VINCENT DADA - NEWS MEDIA TEAM