Year 9 Orientation 2020
March 11, 2020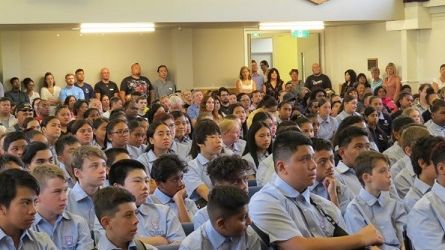 ---
At the start of this the term, numerous Year 9s, and their parents, gathered inside the college's Marilyn Wales Auditorium ready to kick-start their college journey. Orientation Day is a rather significant experience as it is usually remembered as a pupil's first day in high-school and, throughout the day, students are able to meet their whānua teachers and classmates as well as the prefects who guide and assist the newcomers around the campus. 
Many parents were in attendance at the welcome and were pleased with how the college welcomed their sons and daughters to their new school. Prefects were there to help and alleviate any concerns that the new students had. When asked about how she felt on her first day, Year 9 student, Avylin Fifita commented. "I found it pretty nerve-wracking at the beginning meeting all the new people, but it was fun getting to know our teachers and prefects." Another student, Isabel MacMenigall added. "It was great seeing the new faces and I'm excited to learn more about my peers throughout the school year." Organiser, Assistant Principal, Mrs McKnight reflected.  "It was an excellent day welcoming our new students, with everyone involved enjoying the day. A special mention to our hard-working prefects who worked tirelessly to make our Y9 students feel part of our college community."
Overall, the day was a huge success and gave our new Year 9's the opportunity to meet new people as well as help them feel welcomed into their new school. Along with the new year, 2020 introduced over 270 Year 9's to One Tree Hill College.
MERLYN SEELAM - NEWS MEDIA TEAM