The First Day at OTHC 2021
March 22, 2021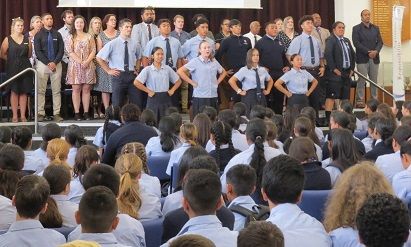 ---
The first day at OTHC was a major stepping-stone for the approximate 200 new Year 9's, who began their high school journey at our school. The Year 9 Orientation Day is a special day, with the main purpose being to provide an encouraging experience for our new students, many of whom, were feeling anxious on leaving behind their primary and intermediate years. The day began with a wonderful powhiri, with the many students and parents being welcomed into the Marilyn Wales Auditorium. Speeches of welcome by Mr Kimi, Principal Mr Coughlan and BOT Chairperson Mr M Guptill followed before the students were introduced to their whānau teachers and then setting of to their rooms.
The College's kapa haka group also added to the most impressive experience. Throughout the day, pupils were accommodated by the Year 13 prefects, who showed them around the campus grounds and introduced them to their teachers, and generally were there to answer questions or help out in any way. Students were very quick to relate their experience of their first day with Adrah Meyer commenting, "The prefects were really supportive and encouraging leaders who helped us feel at ease." Xavier Lo added, "The Orientation Day experience and the help of the prefects certainly helped us settle faster into the college than we would have expected, while Jason Vaka commented, "I got to know my teachers right from the start and it made me feel really comfortable."
Assistant Principal Mr Kimi who was the lead organiser of the day, expressed his appreciation of all the staff who made the day such a success. "The powhiri was well received and enjoyed by all who attended, and we are really looking forward to getting to know all of our new parents and students. Special mention to our wonderful college prefects who proved to be outstanding leaders with the way they showed parents around and took the new students "under their wings" to make them feel welcome". Overall, it was acknowledged by all that the OTHC Orientation Day was a welcoming experience that both parents and students all enjoyed.
MERLYN SEELAM - NEWS MEDIA TEAM