Academic Excellence Awards
March 13, 2020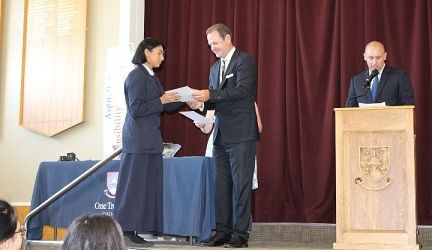 ---
Recently, One Tree Hill College celebrated their students' academic achievements in front of their fellow students, teachers, parents, and the wider school community. Students who had achieved excellence in the previous year's NCEA Level 1 and Level 2 assessments were honoured at a senior school assembly. The school held this special gathering to acknowledge the hard work and effort put in by these One Tree Hill College senior students who had earned over 50 excellence or merit credits. The merit and excellence endorsements were presented by Principal, Mr Nick Coughlan who also distributed badges which correlated to their endorsements. He made a point of praising the assembled students and for their enthusiasm in following the One Tree Hill College motto "Strive for higher things". Our school's NCEA success rate continues to grow and is now consistently sitting above the national mean and is comparable to other high achieving Auckland secondary schools.
On behalf of all the senior students who received these awards, we would like to thank all the teachers and staff for helping us gain these incredible achievements.
MARY ABIAD & ALEXIS PARKASH - NEWS MEDIA TEAM.