Duke of Edinburgh Trip
October 19, 2022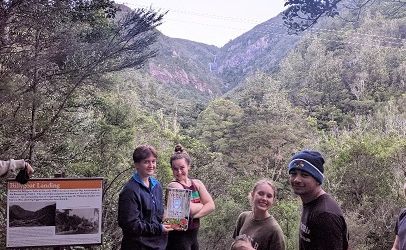 ---
The Duke of Edinburgh Awards is a youth award program that is designed to challenge participants and encourages them to involve themselves in their communities. Youth taking part in the programme are required to participate in the four steps to gain their awards – show service, exhibit skill, and fitness to an appropriate level and finally, take part in an adventurous journey. With each level of the awards (bronze, silver, gold) becomes a greater challenge to complete with longer hours of logging to complete and a greater depth of skill to learn.
This DOE programme is recognised globally, and participants are sought after by many tertiary institutions and employers because of the valuable skills that have been gained by participants. As part of the programme, a group of eight One Tree Hill College students (currently members of the silver and gold levels), recently took part in a four-day camp in the Karangahape Valley. On arriving in the Karangahape Valley, students set up base camp by Totara Flat, assembling tents and arranging self-decided meal preparations within their allocated groups, while also displaying traits of ownership and taking responsibility over themselves.
The primary hike up The Pinnacles was completed on the second day, while smaller hikes up mountains and to various huts (such as Crosbies Hut) had taken place on the third day, following a 6:30 am wake-up call.  Many students had agreed that the time spent outside of the classroom with each other had let them experience team bonding which led to them gaining an extra sense of compassion and understanding towards one another, and supporting each other throughout the trip. The expedition not only allowed close-knit relationships to form but also provided the members with a newfound appreciation for New Zealand's nature and endemic creatures. They also learnt to develop survival skills such as map-reading, navigation, responsibility and discipline. 
Surrounding locations such as nearby waterfalls and look-out points were group favourites as many expressed that the most memorable moments of the trip consisted of late-night swimming in creeks and relaxing in icy rivers after the ache of a long hike. Deputy Head Boy, Dominic Lo, participated in the expedition and commented on the trip. "All of us had an amazing time on the Duke of Edinburgh trip, and being so far away from civilisation was so peaceful. There were so many beautiful views to uphold and admire. We are really thankful to our teachers Ms Maher and Mr Brazier for organising such a wonderful experience". 
The purpose of the Duke of Edinburgh Award's adventurous journey was to instil teamwork skills and self-confidence, and the students are grateful for the opportunities and experiences it provided for them. 
MERLYN SEELAM - NEWS MEDIA TEAM