New Turf 2022
October 20, 2022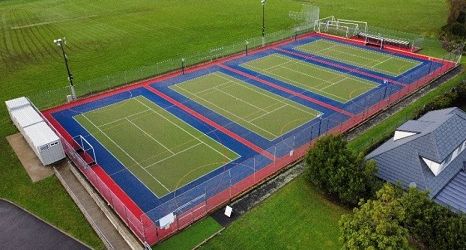 ---
During the year, renovation happened in an area of the school that is vital to our student's health and enjoyment – the hockey turf. The hockey turf (which doubles as tennis courts in the summer), has been a place that generations of students have used, playing various sports and relaxing with friends. It was opened in 2001 and has had a whopping 21 years of use. The astro turf covering has withstood numerous activities and various extreme weather conditions during in these years, and signs of damage and general deterioration were showing – it was 'coming apart at the seams'. Management recently decided that it was time for an upgrade.
A new design was created and from previously having four tennis courts and a hockey field, we now also have four netball courts and four turbo touch courts, giving our turf a more modern, vibrant and fresher appearance so that students and teachers alike can practice various different sports on the turf without the restrictions of only having tennis courts. Mr Bettridge, One Tree Hill College's property manager said. "I'm very happy with how the resurfacing of the courts went and how the final product looks. It is only one of the renovations happening around the school as other projects include the rooms in upper Miro being repainted, weather tightness for the front reception and KC areas, and another massive project in the renovation of the Student Services Area."
A huge thanks to Mr Bettridge, Mr Faunt and Mrs Quensell and the various staff of One Tree Hill College for all their hard work in making this wonderful facility happen. We appreciate and acknowledge the organisations responsible for the funding of this project – Blue Waters Trust, Maungakiekie-Tamaki Local Board, Milestone Foundation, Rano Community Trust, Trillian Trust, Youthtown.
JED SANCHEZ & ALEXIS PARKASH - NEWS MEDIA TEAM