Our Student Leaders 2022
May 31, 2022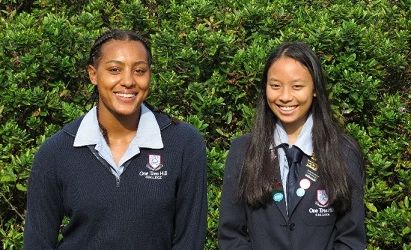 ---
Annually, the students of One Tree Hill College elect a pupil to become their representative on the Board of Trustees – a job that seeks to enrich the general life and academic potential of students of OTHC. This year, after the election process the student body collectively decided that Mary Abiad would be their voice for 2022, with Courtney Matthews chosen as the vice representative.  
Mary was asked about her new position and her ideals as the new student representative. "Becoming the Student Trustee, and representing our school's student voice, has always been a goal that aligned with my ideals of the general improvement of our school. I wanted to help students connect with the school board and be part of the decisions that potentially impact our transition after high school. I also wanted to minimise any difficulties the student body has in the daily routines at One Tree Hill College.  
Both Courtney and I would love to implement more whānau activities targeted at strengthening the bond between junior and senior students. Given the COVID restrictions gradually being lifted, we have observed that students have missed a lot of the school experience prior to this year. We want to ensure that students have more exposure and more engagement in the opportunities that One Tree Hill has to offer now that New Zealand is slowly shifting to the next phase in our Covid response. This includes more trips, whānau events and weekly events where students can relax from any academic-related and out-of-school burdens. We wish also to focus on art department activities to fuel creativity to complement the school's academic and sporting achievements.
Finally, we wish to improve air conditioning and heating facilities in classrooms to make day to day learning easier. It would be incredibly helpful to students and teachers alike, especially with Auckland's unstable weather patterns." She added, "I aim to be completely transparent. Although the above ideals are not guaranteed to happen, I and Courtney will do our best to make sure that the student body's opinions and ideas are represented at Board meetings." The students of One Tree Hill College are very lucky to have these two amazing student leaders stepping up to take on the challenge of creating a prosperous future for the college. We are sure you will see promising changes around the school implemented from the ideas of these two students. 
We congratulate Mary Abiad and Courtney Matthews for being the 2022 student representatives on the Board of Trustees.
ALEXIS PARKASH & JED SANCHEZ
NEWS MEDIA TEAM