Polynesian Panthers Visit 2022
March 29, 2022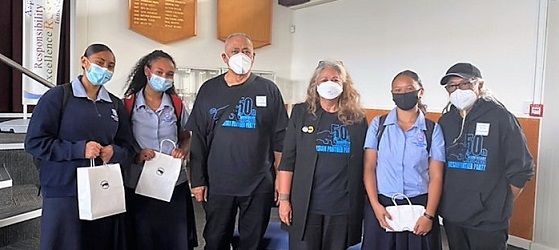 ---
The Polynesian Panthers ran their 'Educate to Liberate' programme with the Year 11 History students recently. The workshop that they take to schools focuses on the experiences of Pacific Islanders growing up in New Zealand during the time of the Dawn Raids. They also talk about the activism the Polynesian Panthers took to fight against this injustice and racial discrimination.
Three presenters – Associate Professor Dr Melanie Anae, Reverend Alec Toleafoa, and well-known musician Tigilau Ness related their experiences to a captive audience of those 'Dawn Raid' times and the effect that it had on them and their families. Music and visual effects were also used to get across their message. "We go to many schools and talk about our experiences," said Tigilau Ness, "we do this because we want to break down the stereotyping that leads to racism. We want the students to take out of our talks the need for them to develop a self-belief and self confidence in themselves." He reiterated that their message is – 'the best form of protest is success through education'. The students were also given packs which contained a great outline of the history of the Panthers and the message that the Polynesian Panthers are dedicated to getting out to our youth.
The students enjoyed the experience and enjoyed interacting with the guests at the end of the talk. Student Sonya Tusa said. "Listening to them speak reminded me of the times I have faced stereotyping and how I felt at the time – a mixture of sadness and anger." While Lizzie Leatua Willie-Ape added, "I thought of the times that I have been a victim of racism. It wasn't nice but listening to them has made me feel more confident to face these situations in the future.
Kyan Cross commented, "I really enjoyed listening to them recount their experiences. I found it so much better than reading about it in a book or watching a documentary about the subject. Listening to them you could really feel the emotion and understand how they felt." A very worthwhile experience for the Year 11 students and one that certainly made an impression on them.
ROSLYN DAVIS & BRIAN LANGDON - NEWS MEDIA TEAM