Year 13 Art Trip 2022
October 17, 2022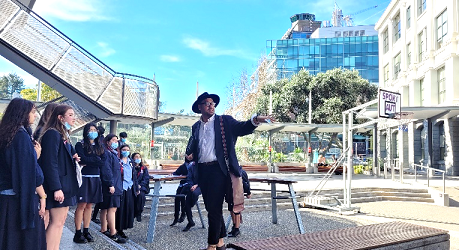 ---
Year 13 Art students taking Painting, Design, and Photography classes visited AUT to see the potential that the university had to offer them next year. They also visited Westlake Girls High School to see New Zealand's Top External Folio Boards from 2019, that covered all the art fields - Design, Painting, Printmaking, Photography, Sculpture, and Moving Images. They were accompanied on the trip by Photography teacher Ms Lee. At Westlake the students were impressed with the standard of work exhibited and were especially captivated with Emma Ormsby's sculpture "White Washed". Her work was about her engaging her Māori and Welsh heritage and reflecting her own culture and identity."  The students then visited the Auckland University of Technology (AUT), to gather an insight into the niche environments they would be working if they pursued a career in art at this institution.
The trip helped the Year 13s understand two things - the first being, to understand what it will take to make them the best of the best. Viewing the boards gave them the inspiration for the completion of their own boards and gave them the understanding of how to fully convey their ideas and creative skills through their artwork.  It also gave them the chance to see different materials used as well as different layouts. The second being to see AUT and understand how different this environment is to high school. They got to see the different studios and were told about the different pathways they can choose in pursuing art."  Student Alyssa Boyce said of the trip, "This trip has certainly helped me to understand better the career I wanted to pursue."  Teacher Ms Lee added, "I enjoyed the outcome and the reaction that I received from the students. They were overwhelmed with the different pathways one can choose at university.
I hope the trip has encouraged these students is to pursue their dreams in Art." The students all would like to thank Ms Lee and the other teachers who arranged this visit.
NIDHI KANT - NEWS MEDIA TEAM