Year 9 Information and BBQ Evening 2020
July 27, 2020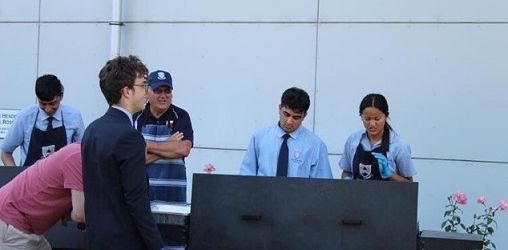 ---
As students begin their high school journey, it is important for parents to know who will be guiding their children through school, and, who they can talk to about their children's progress. They also want to make sure that they have sent their children to a school that will surely nurture them and prepare them for their future education.
With this in mind, One Tree Hill College held their annual Year 9 Information and BBQ Evening. This evening aims to give parents a better understanding about the school and the opportunities it gives every student. It also works towards a better relationship between the school and the students' whānua so that all parents are up to date with their children's learning. The evening started with a presentation about the school routine and OTHC's values, rules and regulations. This was followed by a tour around the college where parents got to meet their children's whānua teacher and leaders. After the tour, parents were lead to Kowhai's front lawn where they got to mingle with each other and staff members while enjoying the barbecue prepared by OTHC staff and the prefects.
Year 9 students Avylin Fifita and Danii-Nicole Gray both said that the information evening was nice as their parents got to meet their teachers, while parent Ms. Hulita Maile had the same sentiments saying, "I enjoyed talking to the new prefects and teachers and the food was appreciated." Even the staff members who were in charge of the information evening had a great time with Deputy Principal Mr. Tim Middleton saying, "It was wonderful to see so many parents of our new Year 9 students at the Information Evening. The staff members enjoyed meeting families and making the connections that will be strengthened throughout the coming months."
Overall, everyone present had a great time and it was pleasing to know that each of the parents went home assured that they have chosen the right school for their children. All thanks to the staff members in charge of the event and to the prefect team for an amazing evening!
TIFFANY MORALES - NEWS MEDIA TEAM