Level 2 Sociology Inquiry
August 4, 2021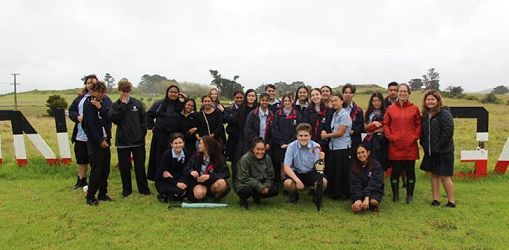 ---
Part of the Level 2 Sociology inquiry of the land dispute in Ihumatao, involved the Year 12 Sociology Class visiting the sacred land of Ihumatao.  Our guide on the visit, was the spokesperson of SOUL, Parnia Newton.  SOUL (which stands for Save Our Unique Landscape) has been fighting for land ownership rights of Ihumatao which was confiscated during the Maori wars in 1865 by the government.  Ihumatao (situated in Mangere close to Auckland Airport) is a special heritage land for the Maori with its man-made stone henges, underground lava caves and a very important connection with the people of the land.  
Mrs Bodman was Social Science teacher who was involved with organizing this field trip. She said about the trip, "Visiting Ihumātao helped the students to connect more with what they're learning about in class. For Māori students, it's also important to connect with young Māori leaders and to see what's possible so they can be inspired to make change." 
We the students were brought to the land to share a physical connection by touching and being in the presence of the spiritual land.   Raven Morales who is part of the Year 12 Sociology trip said of her visit, "The trip was very helpful in not only getting a good viewpoint for our assessment but being included in the social action of regaining this special land back."  Another student Tonee Labunog added, "I thought the trip was really helpful, it gave me an understanding of how much the land really meant to its people and to their culture." 
A big thanks to Mrs Bodman for organizing the trip for these students.   
CARL OBISTA- NEWS MEDIA TEAM