MasterChef Competition 2021
August 10, 2021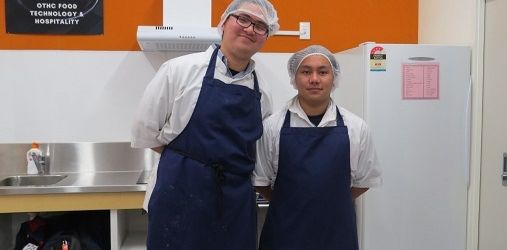 ---
One Tree Hill College recently held its second whānau competition of the year. A total of 18 pupils from each whānau - Hinau, Kowhai, Tawa and Miro - outfitted in their navy aprons - battled for points. All whānau were provided with identical bags that contained a fixed amount of ingredients for teams to share amongst themselves and devise a menu. Teams were required to create their chosen meal in the mere 45 minutes of which lunchtime offered. Each whanau's junior and senior teams (each with six members) were challenged with the task of creating a delectable savoury dish.
Staff members assessed the competition and awarded points based on taste, innovation, teamwork and presentation. The challenge days were hard work but fun, and, following the last day of contest, results were finally presented, with students eager to see the whānau point summary after all previous whanau events. Tawa stood atop first place with Hinau second, Miro third and Kowhai fourth. Miro's senior team member Marcy Timoteo commented, "Once you're inside the kitchen, time goes by faster than expected. The competition was a challenging experience, but one worth taking part in." Teammate Emily Albertengo-Shaw agreed. "The Masterchef competition was a stressful but fun experience. The teachers and team members were all supportive, which encouraged us to work better and bond as a team."
Congratulations to all students who participated and represented their whanau house in the event.
MERLYN SEELAM - NEWS MEDIA TEAM