Netball Success 2022
June 23, 2022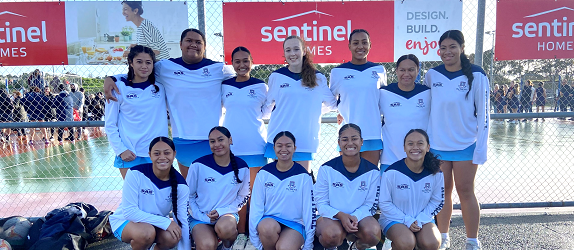 ---
After competing in the grading rounds in the Netball Auckland competition, our school's premier netball team earned the right to compete in the prestigious Premier One Grade. Building up to this grading, the girls had participated in a rigorous preseason training schedule. Since March, the girls were trained four times a week to make sure they were prepared for the season.
The grading process itself consisted seven games over the three consecutive days. OTHC won three games which were against Dioscesan School, Glendowie College and St Cuthbert's, and despite the hardships of the process, they were able to pull through on the last day to get the win they needed to secure their spot in the Premier One Grade.  Competition has started against the other top schools in Auckland. The competition will last 12 weeks before the team competes in the Upper North Island Secondary Schools Tournament in August. 
Co Captains, Courtney Matthews and Lynnavie Tuisaula were very proud of gaining Premier One status and the efforts of the team.  "As a captain, I felt so proud of the team's effort and of our younger girls who stepped up to play in prems this year. Our next goal is to try to win as many as games as possible from here, whilst refraining from injuries, and ensuring the girls are still enjoying the sport," enthused Courtney Matthews.  "We were both happy and relieved. I think the team had put in so much work that for us our goal was to make Premier One Grade, and we really wanted to prove to ourselves and to others that we could do it'" she added. "It's a great achievement to be in this grade and with our young side it is a good opportunity for our players to get exposed to top secondary school level netball. We know the season will be tough, but we are up for the challenge," added Director of Netball Ms Jensen.
Congratulations to Coach Finau Pulu and all the girls who worked extremely hard to earn this massive accomplishment.
MARY ABIAD- NEWS MEDIA TEAM