OTHC Head Student Reflections
March 31, 2021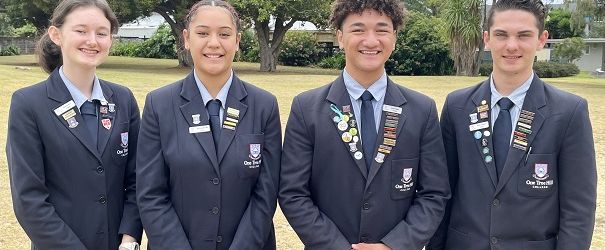 ---
One Tree Hill College was proud to announce the names of the students who would lead the student body during 2021. The students chosen to take on this leadership role were Roy Rogers and Savannah Cook elected Head Boy and Head Girl respectively. They are to be assisted by Felix Nicholls and Bree Felton as their deputies. Many candidates were considered for this crucial but ultimately, these students were chosen as the best fit for the job. The students were thrilled yet nervous at the announcement, especially as their appointment was declared in front of all their peers. Hearing their names being announced has become an unforgettable moment for each of them.  "When I was announced as Head Girl of One Tree Hill College for 2021, I felt frozen. I didn't understand that I could feel both shocked and relieved at once. I couldn't believe the news that I had been appointed and was excited about getting straight to work with my other fellow head prefects. It has been my overall goal since I was in Year 9, to become head girl so being able to achieve this goal has made me feel proud," Savannah said.   Head Boy Roy Rogers added, "I feel becoming Head Boy isn't a position earned, rather a selection by the masses. Nonetheless, I feel incredibly honoured to be selected".  A sterling haka was performed by their peers to congratulate the four students selected.
Both sets of head students whānau, felt proud of their them for reaching this milestone, and are aware that this has become an important steppingstone to their individual journeys. "They were beyond proud of my appointment", Roy said enthusiastically, "the support from my family and friends are the inspiration for wanting to become Head Boy and, now that I am, I won't let this inspiration stop." Savannah's family were also extremely excited for her and the opportunities that this leadership role would open. "The announcement was particularly emotional for my family, especially as I am the first of my to become Head Girl at their college."   As for the head student's plans concerning the future college's development, both aim to continue to foster a school environment where students can feel safe. They want to reinforce the culture of acceptance of different groups and minorities via peer support, and also help students to do the best they can do in their unique endeavours. They want the students of One Tree Hill to "Strive for higher things," as proudly portrayed as our school's motto.
Together, their unanimous goal is to maintain a college with the culture of 'loving to learn'. These aims are not limited to academic side of college life, but also interacting with peers and working towards these goals via co-curricular activities and groups.    One Tree Hill is proud of your appointment and we look forward to seeing your impact on the school in the future. 
MARY ABIAD - NEWS MEDIA TEAM