OTHC Senior Prizing-Giving 2022
December 9, 2021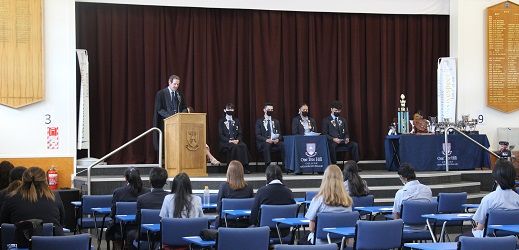 ---
As you are aware, many events on the school calendar have been impacted by covid restrictions. One such event was the senior prizegiving which was unfortunately cancelled. In order to celebrate the achievements of our prestige award winners for their academic, sporting and performing arts success, a small ceremony took place on Friday 26 November. Unfortunately, no parents or family members were able to attend. 
At the ceremony, the college's most supreme awards, our Dux awards, were presented. The Dux Litterarum, for our top overall academic student, was Bree Felton. Our Proxime Accessit, runner-up to Dux, was Jason Yoe. These are both outstanding achievements from two very dedicated students.
The Dux Artium for 2021, for the greatest achievements in Arts and Culture, was awarded to Felix Nicholls. Our two most prestigious sporting awards are our Dux Ludorum for top male and female student. This year these were awarded to Joshua Jones and Savannah Cook respectively.