OTHC Student Leaders 2022
March 29, 2022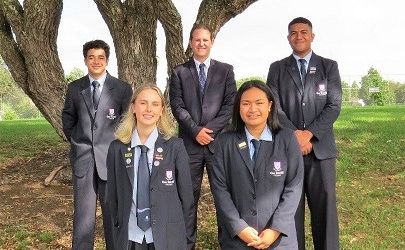 ---
34 exceptional Year 13 students who have demonstrated our institution's four school values of respect, responsibility, innovation, and excellence during their time at One Tree Hill have been selected to lead the student body of 2022 as this year's Prefects. Amongst this leadership group, four students gained the privilege of undertaking the extra responsibility of head prefects. They are- Head Boy Solomone Mahe, Head Girl Sabine Roskilly, Deputy Head Boy Dominic Lo, and Deputy Head Girl Mena Falefata.
The ceremony to congratulate our prefect team had to be held virtually for parents and students to witness to comply with Covid safety restrictions. However, the whole prefect team came together to perform the College's haka to demonstrate respect and congratulate the four selected head students. Both the Head Boy and Girl are exceptionally grateful to have been entrusted with their prestigious roles.
Head Boy, Solomone Mahe commented, "To lead the student body of One Tree Hill College is something that I have always transpired to do, so I am very grateful and honoured to have received this position. I am also thankful to the management and staff of One Tree Hill College that they saw in me a person who had the ability to carry out this very responsible role."
Head Girl, Sabine Roskilly added, "I'm still very much in shock that I gained the position of Head Girl, I guess I am still processing it. I feel that I worked very hard to earn this role throughout my time at OTHC and although I'm still processing the idea I'm Head Girl, I am extremely grateful to have been given this opportunity." 
Just as proud as the students and staff of One Tree Hill College are of the head students, so are their families. "My family are so proud that I have been entrusted with this leadership role," says Solomone. Both head students have constructed goals to help them tackle this year and help lead the school during this third year of the Covid pandemic. Sabine said, "My main goal as Head Girl in 2022 is to help introduce many more clubs/leadership opportunities for our students, especially those who see themselves as future prefects. I also wish to help promote the student voice this year as Head Girl, encouraging ways in which the school can further prioritise the needs of students (especially during these difficult times of the pandemic)". Solomone adds, "I know that this year I will be very busy and that my time management will need to be of the highest quality".
The head students will be working alongside the prefect team and Miss Whittle to devise a plan for this year including several events to "help bring the college together in unity as the past couple of years haven't been as easy." Principal Mr Coughlan comments, "At One Tree Hill College we have excellent leadership programmes in place from Year 9 that develop outstanding leaders. This year's Prefects and Head Students are certainly no exception. I would like to congratulate all Prefects and Head Students on their selection to lead the student body in 2022 and wish them well on their journey to continue and make a positive difference."
One Tree Hill College is proud to have garnered a student leadership team who all demonstrate great passion in bettering our school be it academic or social co-curricular activities. We say congratulations to you all and we can't wait to see what the Prefect team has in store for us in 2022!
MERLYN SEELAM - NEWS MEDIA TEAM