Pasifika Academics Awards Ceremony
June 23, 2022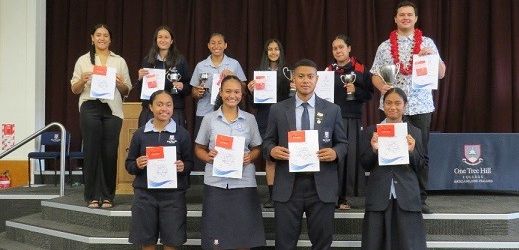 ---
The 2021 Pasifika Academics Awards ceremony was held at the school recently. Due to the interruptions in 2021 that postponed the ceremony last year, the school still wanted to acknowledge the hard work of the Pasifika students. 2021 was full of ups and downs, but once again many of our Pasifika students prevailed and persevered, and this was recognized and celebrated during the Pasifika Academic Awards. Unlike the school's traditional Pasifika Awards ceremonies (which Mr Maea-Brown briefly described as - "an auditorium filled with colour, family, items and guest speakers," - this year's award ceremony only consisted of the 2021 Pasifika prestigious award winners and the Toloa Stem Scholarship recipients.
In addition, to the recipients we were blessed to hear and listen to LeVa who briefly introduced their organization and how they can help strengthen the Pasifika youth in today's time. Despite the red-light restrictions, there were many memorable and enjoyable moments from celebrating and honouring the school's Pasifika's high achievers at the ceremony. Organiser Mr Maea-Brown said of the ocassion, "I did enjoy seeing and hearing the prestige winners speak - that was a clear highlight", he added, "many thanks also to the OTHC Board and SLT for sponsoring our event, and to all the staff involved in putting the event together.
He also said that most importantly, our prize winners really needed to be congratulated for pushing through all the barriers to achieve such a high level of attainment. Year 12 Prestige Award Winner Foakautu'u Oto'ota commented, "I think it was a great way to celebrate all the Pasifika Achievements. It's great to see the support from the teachers towards the Pasifika community. Moreover, the award ceremony allowed parents and families to come together through technology and praise the sacrifices their children have made to earn these rewards." Once again, a massive congratulations to the Pasifika Award winners for 2021. 
MARCY TIMOTEO - NEWS MEDIA TEAM