Secondary Schools Wrestling Championships - Shahab Karimi
May 14, 2021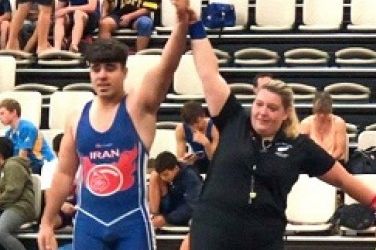 ---
Year 13 student Shahab Karimi recently represented the school at the Auckland Secondary Schools Wrestling Championships. After hard fought preliminary rounds Shahab finally met the Dilworth College representative in the final. This final was a one-sided affair with Shahab pinning his opponent one minute into the first round. He now goes on to represent Auckland at the New Zealand championships later in the year. Shahab was bought up on wrestling as he came from the wrestling capital of the world, Iran. He loves the sport and has been pleased that he has been able to represent OTHC as well as establish the college's name to the wrestling fraternity. "I was really self-motivated and hungry to complete", he says, "and excited about the opportunity especially after the long break due to covid". He also added that he was especially proud that he could represent his school and bring the OTHC name to the notice of the wrestling fraternity.
He would like to thank his coaches and gives special thanks to Ms Crawford and Mr Taukolo for their support.
Good luck with the Nationals Shahab!!
B LANGDON & R DAVIS- NEWS MEDIA TEAM