Technology Trade Event 2021
September 10, 2021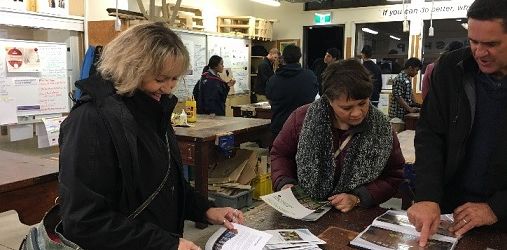 ---
The Trade Event that was held in the OTHC workshops recently was the result of a collaboration between the school's Technology Department and the advisors from our Careers Department. The event was organised with the aim of discussing the future careers of our carpentry students with families and community trading partners, as well as unlatch doors for students to enter the trades industry via participation in the Gateway Programme.
The Gateway Programme acts as a bridging programme between schools and industry. It allows students to gain knowledge of various trades, help enforce student success, and introduces students seeking apprenticeships to prospective employers. Throughout the duration of the 10 weeks in which the programme is held, students are given the opportunity to work one day a week, alongside a qualified tradesperson in one of sixteen building trades.
Following this some students were then given the opportunity to seek apprenticeships to help kick start their trades careers. This is a wonderful opportunity as within three to four years they could become qualified tradespeople.  The collaboration between the school's two departments has allowed senior students pursuing a trades career to receive support, encouragement and the experience make this goal a reality.
New Zealand is currently experiencing a nationwide shortage of qualified tradespeople, and the Gateway programme is one vehicle to help ensure that our students are part of rectifying this problem. Technology teacher Ms Gibson, who helped organise this event commented. "We were delighted to see so many students, families and trades support the event and take advantage of this unique networking opportunity, and, enjoy a sausage!"
MERLYN SEELAM - NEWS MEDIA TEAM