Three Kings Primary School Visit
October 20, 2022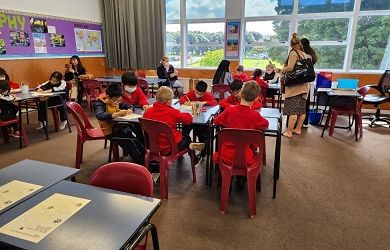 ---
Three Kings Primary School students made a trip to OTHC to experience a marae visit. They were to be officially welcomed onto the marae, shown around the school, and be engaged in fun activities to experience marae life. The visit was organised by Board member Mr Max Guptill and Three Kings teacher Ms Olivia Neary.
The College's Year 10 students were charged with looking after our younger visitors and both enjoyed the experience of learning from each other. All students had an awesome time, and when the young Three Kings students were asked what their favourite part of the day was, it was unanimous, that the colouring activities were the winner. The teachers were happy with how the visit went, and many of the kids and OTHC students were happy they got to participate in plenty of enjoyable activities while also having a great time learning about their cultures and the area around OTHC. Three Kings teacher Ms Neary commented on the day expressing how impressed she was with the OTHC students. "For me, the day was a truly special experience reflected in the efforts by kaiako and tamarki at One Tree Hill College. The highlight was seeing the tuakana teina between the Year 10s and Year 2s. The Year 10's ran workshops that epitomised the school's values of excellence, aspiration, innovation, respect and responsibility, and these students were outstanding role models that should be proud of what they have achieved.
Thank you for this experience, it will be remembered forever by tamarki, whanau and kaiako." She also added, "I really would like it if the children who were on in this trip might some time in the future come back to One Tree Hill College and see if they can remember anything from this trip." One OTHC student Kaya Jacobs who helped out with our visitors said enthusiastically of her experience, "I enjoyed spending time with the young kids from Three Kings School teaching them aspects of Māori culture. They enjoyed doing the Matariki art and participating in the games. I enjoyed teaching them they had great personalities." And what did our young manuhiri think of the day? Young Lexie said, "I enjoyed the day because the food was so yummy and so soft. I loved the chicken and all the other stuff that we ate. I liked doing all the activities, but my favourite activity was working with the stars because it was so cool colouring them in. It was really good meeting all the OTHC students because they did all the best activities with us. I want them to teach me all the time!"
Many thanks to Whāea Shanna for all her work to make this a most successful and rewarding day.
RACHEL DAUNOCO, DIYA NEGI & SALWA KAMBI - NEWS MEDIA TEAM