Tongan Relief for Tonga
March 29, 2022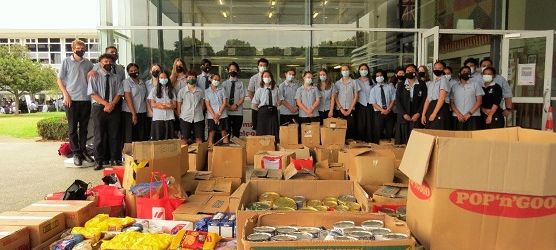 ---
The Hunga Tonga-Hunga Ha'apai Volcano eruption that occurred in Tonga recently impacted on many of the school's Tongan community. Quickly reacting to the situation, the Board and senior leadership team of OTHC put the word out to the college's students and community for donations of food and stationery to send to Tonga. They also organised a container (in conjunction with Rutherford High School) for the delivery of the donations to the ravaged islands. "In light of the volcanic eruption, which triggered a tsunami that destroyed villages and communication infrastructure in Tonga, we wanted to support our Tongan families and friends," Principal Mr Coughlan said, "in the space of only 24 hours, our community donated in excess of 120 large boxes of items."
In addition to the community, Post Haste Couriers also donated and supported the Tongan Relief - "a special thanks to all those who donated, especially our neighbours at Post Haste Couriers who were very generous with their support," said Mr Coughlan. This Tongan relief support really showed how the One Tree Hill College community is always there to support one another ready to support those in need. As Mr Coughlan said, "One of the reasons I am so proud to be a member of this school is that our community is always thinking about others." This kind act of the Tongan Relief for Tonga humbled many who were involved, especially the prefects who tirelessly worked to sorting out the donated goods.
One Tree Hill College's Head Girl Sabine Roskilly, commented, "I felt very proud of One Tree Hill College for donating as many resources as we did. This made me feel so proud of our school as it shows how caring and hardworking, we are, especially for those in need of our help. It was also quite difficult to sort through the donations as it really put into perspective how hard the Tongan community was hit when the volcano erupted. I know that our contributions to the Tongan Relief will make a huge difference to those struggling in Tonga".
Lastly, a Prefect from the Tongan community, Foakautu'u 'Oto'ata shared this with us. "I felt immensely grateful for the huge support from our school supporting the Tonga community. With their donations, it helps to put me at peace as the families who were affected by this disaster will be safe that there will be food on the table. I hope to see more of these simple acts of kindness in the future."
A fine example of the caring environment that abounds at One Tree Hill College. 
MARCY TIMOTEO - NEWS MEDIA TEAM