Year 13 Auckland Zoo Trip 2021
September 10, 2021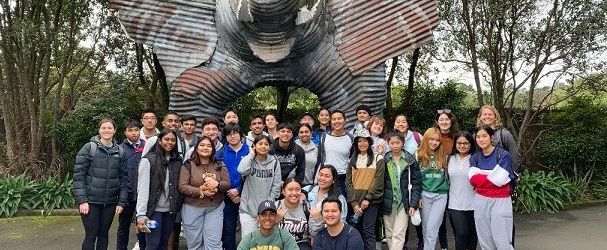 ---
The Year 13 Biologists enjoyed a fun, fact-filled, day at the iconic Auckland Zoo recently, exploring the flora and fauna of our own Aotearoa and that of many continents spreading all the way to South America. The day started with a Human Evolution workshop, where the students became paleoanthropologists, examining skulls and stone tools belonging to early hominins.
The students took on board the wealth of knowledge that was presented to them and with their in-depth discussions and team work, certainly impressed the Auckland Zoo educator and with all these new facts and wonderful visual presentations the students were exposed to during the day, which was the highlight?
Remembers Y13 student Josh Jones, "The spider monkeys "monkeying around" was a definite highlight for most of us, but the ability of a female elephant to identity the scent of more than 100 other female elephants was a firm favourite - oh, and the ice cream was good too!" All in all, a hugely success day and a great opportunity for students to consider their classroom learning in contexts from all around the world.
The students would all like to thank Biology teacher Ms Harris for organising such an enjoyable experience.
EDITORS - NEWS MEDIA TEAM