Year 13 History Trip 2022
October 19, 2022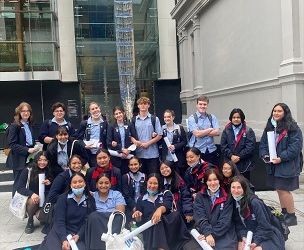 ---
The Year 13 History class had the pleasure of visiting the Art Gallery to view their 'Declaration: A Pacific Feminist Agenda' Exhibition in preparation for their assessment - analyzing the historical ideas and significance of the British Suffrage Movement. In this exhibition, the artworks of 12 prominent artists from across the Pacific each conveying a feminist view by speaking out about some of the direst issues of our time, such as climate change, resilience, activism, tino rangatiranga (sovereignty), activism and social justice.
Many of these artists work drew feminist parallels to the actions of suffragettes of the past. In this exhibition they also put their 'bodies on the line' for their artwork and cause, raising awareness for these pressing issues in the medium of contemporary art. As we see this paradigm over time, the students were able to garner a deeper understanding of the movement and see a different side to the feminist movement that has been overshadowed by a Eurocentric narrative.  
One of the students, Nadyza Ly, said. "It was a chilly and relaxing day. I enjoyed the different types of the exhibits and art styles as well as getting to learn about the voices of the indigenous women's take on feminism. I was able to apply it to the significance part of my British Suffrage Movement assessment."  Ms Philson, the students' History teacher, expressed the aim of the trip and its positive impacts on the students in more detail, "The goal of the trip was to view feminism through a Pacific lens, and understanding that the themes of activism and social justice can be linked to the British Suffrage Movement.  The trip was enlightened and challenged students to make connections beyond the master narrative of western history."  All in all, the students gained a wider perspective in the narrative in which feminism has been approached today and also how it can apply to their own philosophies and daily life.
Special thanks to Ms Philson, the school and the Art Gallery who helped turn this trip into a reality.
MARY ABIAD - NEWS MEDIA TEAM