All Blacks Coach Inspires 1st XV
May 24, 2015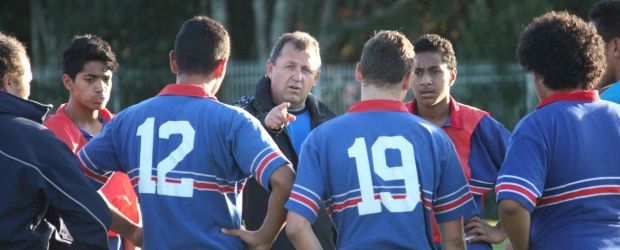 ---
All Blacks assistant coach Ian Foster took some time away from his busy schedule to give the premier side some valuable tips for the current season.
"I really enjoy this, I love it when you see the passion and the enthusiasm at the First XV level," he says.
"I've met with their coach and talked through some of the aspects of their game so I'm really just trying to see if there's anything I can add to it.
"It's not about trying to make sure they can't walk afterwards, it's more helping them to understand the game a little bit better."
The training session was gifted to One Tree Hill College from the winner of a silent auction run by the Christian Blind Mission, an international non-government organisation helping people with disabilities in poor countries.
One Tree Hill College First XV coach Max Guptill says it was very humbling for his team.
The training session had an immediate impact as the side went on the record their first win of the season, 15 - 7 against Marcellin College.

"It's a chance for them to be involved with something bigger than themselves," he says.
"For them to see someone like Ian and think: My goodness he's coaching some of the best players in the country and now he's teaching us - they were quite blown away.
With the Super 15 season coming to an end, and the Rugby Championship  and World Cup on the horizon, Foster is a busy man. 
Taking a short break from All Blacks duties, Foster says he is always keeping an eye out for fresh talent
"It is surprising where you see it.
"My background is being from a small little country school that didn't have a big reputation in sport. A lot of the lesser known rugby schools still have a lot of talent in them."
For many of the players it was a surreal moment having an All Blacks coach around, but Foster made it as casual as possible.
"I don't want to hear any of this 'Mr Foster', call me Ian," he says.
"It's great to be able to support school boy rugby. It's about making sure they keep the enjoyment of playing together."