General Information
Attitudes to Learning
I will act in a way that supports a learning environment. To do this, I will:
Be punctual to class
Settle quickly to work at the start of each lesson
Bring correct equipment to class
Complete work set in class with accuracy and care
Complete work in sufficient depth
Complete homework as required
Be focused and responsive in class
Avoid distracting other students in class.
Participate and contribute positively in class activities
Show respect to peers in the classroom
Show respect to teachers
Contribute positively to whānau class activities and discussions
Contribute positively in school co-curricualr activities
Wear correct uniform at all times (correct shoes, jacket etc) including to and from school
Look tidy and clean in uniform.
I will seek to bring credit to myself, my family, whānau and the college at all times.
One Tree Hill College Safe School Charter
One Tree Hill College School Values
Location 
One Tree Hill College is right at the Penrose exit of the Southern Motorway and is very handy to the main bus routes and the Penrose and Ellerslie railway stations. The central location of the school makes it very popular with the local residents as getting to school couldn't be easier. The school has a very attractive main entrance that is easily accessed. The school has visitor parking during the day in the carpark off Great South Road.
Facilities
One Tree Hill College is well appointed with modern classroom and student spaces. There are two gymnasiums, artificial turf and playing fields for multiple sports and physical education. The school also has a range of specialist classroom teaching spaces for the arts, technology and science. Students have access to a large Knowledge Centre/library and a 500 seat auditorium.
Please contact the Executive Officer for any facilities enquiries: office@onetreehillcollege.school.nz
Site Map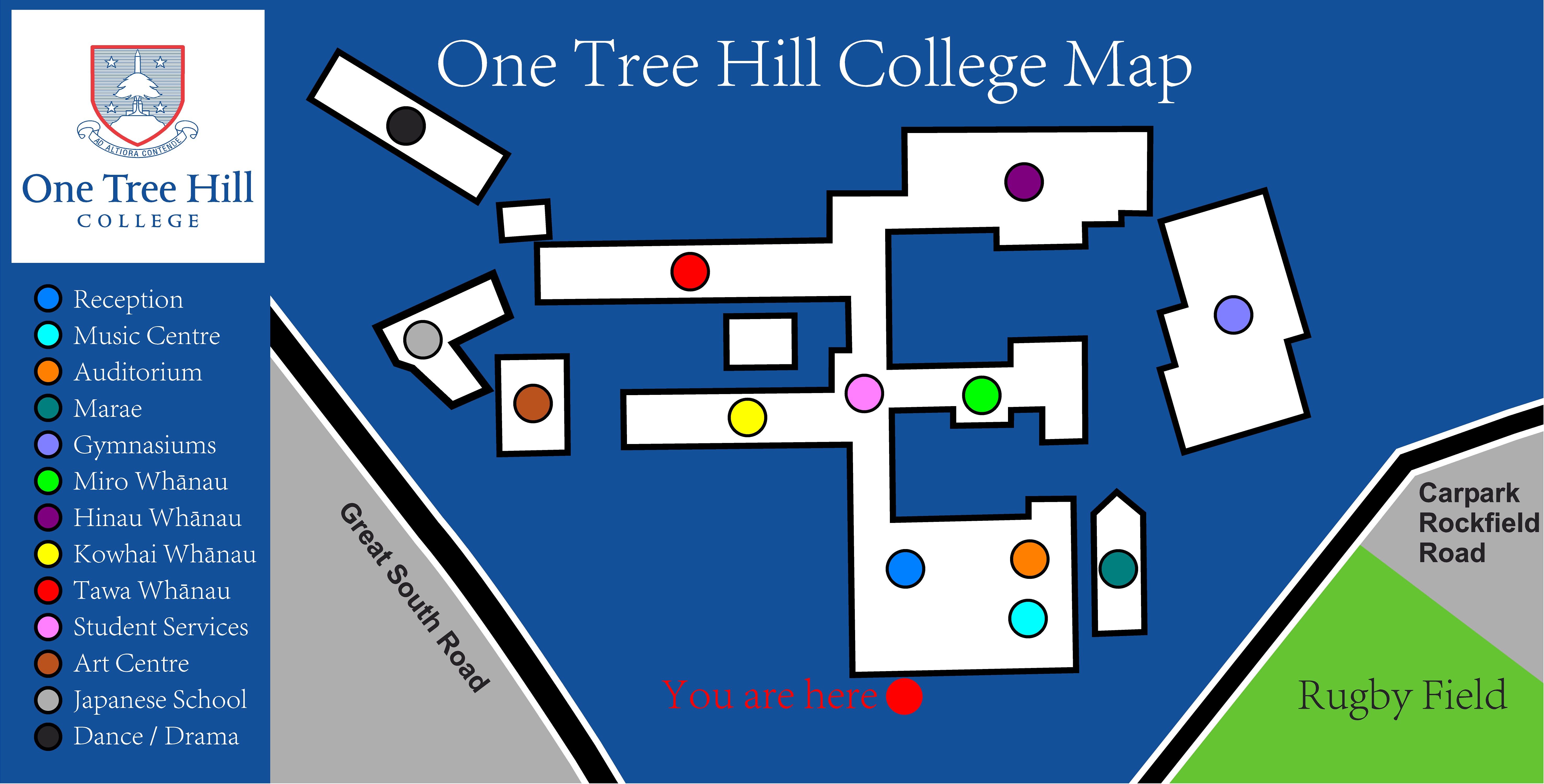 Whānau (House) System
The school is divided into four Whānau (houses): Tawa, Hinau, Miro and Kowhai.
The Whānau system is used for inter-whānau competitions in the various sports and interests on offer and for the athletic and swimming sports that are held annually at school.
College Donation
The One Tree Hill College Board of Trustees has opted into the Government Donation Scheme. In 2023 parents will not be asked for a school donation.
This will also mean most curriculum related costs will also be covered by the College (excluding stationery, IT items, such as laptops, and overnight school extra-curricular trips).
There will still be a required payment for items or services that are extra-curricular (eg. sports teams, cultural groups, etc) or when there are 'take home' components of courses. These costs will be detailed on stationery lists and communicated by teachers.
Office Hours
The College reception is open from 8:00 am to 4:00pm during the normal school terms. During the school holidays the reception is open on reduced hours and then closed for four weeks over the December/January break.
Attendance
Regular attendance is essential for success at school. Attendance is checked carefully every period by classroom teachers and at form time. If a student has not returned after 3 consecutive days of absence the caregiver will usually be contacted. Similarly, the caregiver will be contacted if students fail to bring a written explanation for their absence on their return to school, or if they arrive late to school without a written excuse. Students who arrive late or require a pass to leave school during the day must report to the Student Services Centre.