Ellerslie Tunnel Art
November 28, 2016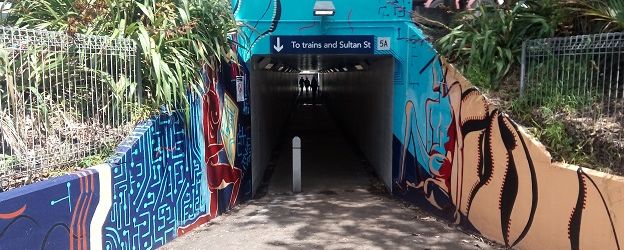 ---
For the last 2 months a selection of OTHC art students have been collaborating with a number of UNITEC students to design and apply a mural to the Ellerslie entrance of the motorway tunnel. The design incorporated the history of Ellerslie/Waiatarua, the connectivity of Ellerslie with the presence of the train station, the use of bright colours, and two guardian type figures for safe passage. Then, over the course of a weekend, the students painted the mural they designed.

Some of the history the students learnt, included the understanding that the local Maori gave the name 'Waiatarua' to the site which later became the Ellerslie Racecourse. Translated as 'two songs', the name refers to a waiata or song that emanated from the underground caves. It was believed that this 'singing' was created by water and air blowing from a larger cave into a smaller passage, making a vibrating sound. In the 1960s a new grandstand was constructed at the racecourse and the caves were filled with concrete to create a seal. This was not wholly successful, and it is said that the singing could be heard coming from the caves.

As you can see in the photos, on the left of the tunnel is a pattern representing the connection of people via the train station and the development of technology. The character is welcoming and protecting the area. The circular forms allude to another passage where the Waiata or singing emanates from. On the right are feminine forms singing into the passage way.