OTHC Māori Achievement Awards Evening 2016
September 9, 2016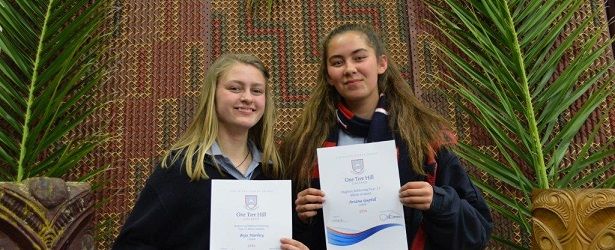 ---
On Wednesday the 7th of August 2016 saw the annual Māori Achievement Awards Evening. These awards are to recognise our High Achieving Māori students from Years 9 to 13. Our Guest speaker was Brandi Hudson and He Tohu Manawanui was a new award this year carved by a whānaunga of Whaea Desiree Hughes and donated by the Davis-Ostler Whānau.
The highest achieving Māori students for 2016 are:
 Year 9 - Leonie Renata-Green, Shante Gribble, Zayde Sarah-Baldwin Year 10 - Ariana Rusden, Jhaelci Reguerra Year 11 - Ariana Guptill, Beja Narbey Year 12 - Anahera Hunter, Luka Ferabend Nieuwenhuijsen Year 13 - River Jorgensen, Melissa Coop
Prestige award winners are:
Tiwihou Cope - He Tohu Watea – awarded to a student who is on our MUMA mentoring programme, who is striving for excellence and is tracking well at NCEA Level 2.
Nicole Cullen - He Tohu Manawanui – awarded to a student who has faced adversity and who is showing perseverance towards her studies.