Auckland Rugby U18 Rugby Team
September 28, 2017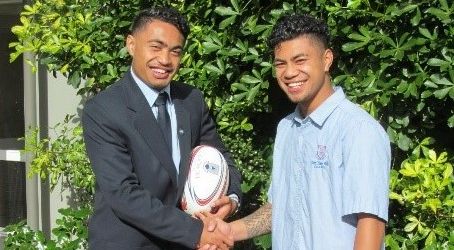 ---
For the first time in years OTHC has a representative player in the Auckland rugby U18 Rugby Team. Flying winger Joe Elisara has climbed the pinnacle and overcome a hurdle of breaking into the Auckland top team. This is an amazing feat in itself as this team is usually reserved for 1A players.
All the more amazing is that this was Joe's first year at playing rugby for the college. He decided to turn up to early season 1st XV rugby training's and surprised himself by gaining a position in the college's team. Joe, who had scored two brilliant tries in the recent 1B final at Eden Park, caught the eyes of the selectors and was picked for the Auckland 1B divisional side.
But what really impressed the selectors was him scoring two more heart stopping tries in the final trial to select the Auckland Representative side. Joe heads off to New Plymouth to play against the Taranaki Rugby U18 representative side with the best wishes of a very proud OTHC community.
Above image: Joe Elisara being congratulated by team mate Kalapu Alaelua on his selection.
NEWS MEDIA TEAM