Miro Mufti Day 2017
November 1, 2017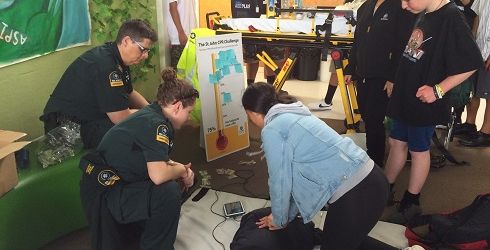 ---
On the 27th October, Miro whānau ran the Term Four Mufti Day. We chose to raise money for St John again this year. Other than their striking green uniforms, which we obviously connect with in Miro, we continue to be fascinated by the selfless work and effort this charity does ensure we have a safe and healthy community. It was a no-brainer for us to once again raise money for this fantastic cause.
We were lucky enough to be joined by St John's staff on the day. As well as an ambulance on site, students were able to talk with staff or take part in their interactive and educational 'CPR Challenge.'  Their presence was a real hit on the day, and made the growing connection we have with the charity even stronger.
On top of this, Miro students and staff 'joined forces' to ensure the day was a success that appealed to everyone. For the more active members of One Tree Hill College we ran a basketball competition and our own version of 'The Amazing Race.' We also had food and drinks covered for the day with treats including: otai, baking, samosas and an epic sausage sizzle. Our 'arty' students were also catered for with an in-house photo booth and an acapella group performing for donations. You name it, we had it!
It is no wonder we were able to reach our target of raising $2,500 on the day. This was a true testament to all of Miro working together and raising as much money as possible. A proud moment was standing back and watching each whānau class running their event with pride. We look forward to doing it all again next year.
Mrs Jandu – Miro Whānau Leader