OTHC Senior Girls Tag Team 2017
April 10, 2017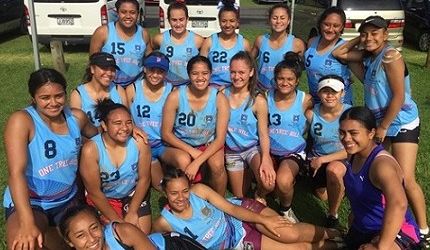 ---
The senior girls Tag team competed and finished 2nd at the South Eastern Competition to qualify for the greater Auckland Final. At the greater Auckland Competition the top 8 teams from around Auckland were ready to play and take the honours.
The OTHC team made up of a selection of seniors and juniors competed well at both tournaments and played some very attractive and open play. It was at the Greater Auckland comp that the team finished unbeaten and top of the pool and easily dispatched a competitive Mt Roskill side 6- in the semi-final to qualify for the final against defending champs Avondale.
In the final it was a fiercely fought and tight battle with Avondale scoring first and defending well. After a spirited fight back the score was 2-1 with five minutes left. As the team were hard on defence an unfortunate injury break put the pressure on the team eating up valuable time and putting an end to the teams fight back. The hooter went and the final score was 2-1 to Avondale.
The team would like to thank the management team for organising and training the team and a big thanks to all the parent supporters who came out to support the team.