Senior Prizegiving 2017
November 10, 2017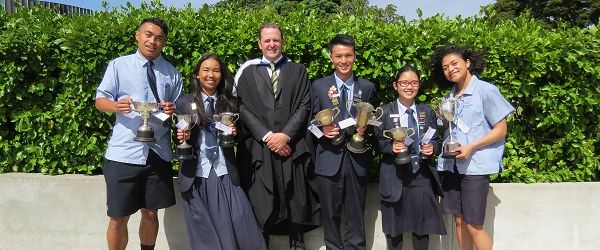 ---
On Thursday 2nd November we held our most formal event of the school year – the One Tree Hill College Senior Prizegiving. In front of a full auditorium, we celebrated the many successes of our senior students and also said farewell to our 2017 Year 13 students. On behalf of the entire One Tree Hill College community, I would like to congratulate all award winners and wish our Year 13 students every success as they begin their journey beyond school.
The college's most supreme awards are our Dux awards. The Dux Litterarum, for our top overall academic student, was Jason Tran. Our Proxime Accessit, runner-up to Dux, was Denise Dazo. These are both outstanding achievements from two very dedicated students. 
The Dux Artium for 2017, for the greatest achievements in Arts and Culture, was awarded to Rocielli Fernando. Our two most prestigious sporting awards are our Dux Ludorum for top male and female students. This year, these were awarded to Joe Elisara and Pelea Fruean respectively.
At the ceremony, our Prefect team for 2018 was also announced and I congratulate them for their selection. The Prefects for 2018 are, Bai Buliruarua, Nicole Cullen, Ella Diprakhon, Edwina Faiva, Renee Faiva, Georgia Faunt, Kaloni Fifita, Minoneti Fifita, Pelea Fruean, Jeffrey Fuatogi, Ariana Guptill, Karlee Hirovanaa, Khin Kyi, Rohil Lal, Opal Manuel, Beja Narbey, Avishay Ram, Munisheel Sami, Patrick Squire, Sake Tafea, Stephanie Tusa, Lucienne Velghe and Pearl-Marli Waetford.  The Head Prefects for 2018 will be selected following a leadership camp in Tongariro National Park from 1 - 5 December 2017.