OTHC Softball Champions
September 4, 2023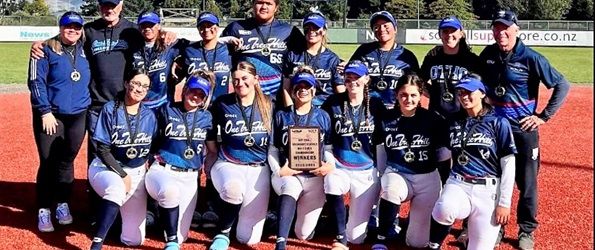 ---
The OTHC Premier Girls' Softball Team, having already taken out the Auckland title, won the right to travel to Christchurch to play in the national secondary schools' softball championships. This year's team continues the proud history of the college's teams winning many Auckland and New Zealand titles over the twenty odd years that softball has become a major sport at the college. Since it was Penrose High School, One Tree Hill College has had a strong softball presence, but this year the team created history as it was the first time that the school had won the national title under the OTHC name.
Despite the bad weather in Christchurch (over the week of the competition), the team were able to maintain composure and keep their minds on victory during the whole week. "The girls gave a fantastic performance, winning the tournament for our college and creating an invincible environment the entire time. The feeling of us winning was unreal," says Skye Weatherley the team's co-captain.  "On realising that we had won the nationals, there was a lot of happiness and pride in the air.  Knowing that we were number one made all the effort, money, weekly games, practises, and trainings all worthwhile." Skye went on to say that winning the senior softball national championship was unquestionably memorable as having represented the college for the last five years, each time her team had got into the nationals they had finished in second place.
Skylahbreeze Joyce had an outstanding tournament as she was named the tournament's MVP.  Skylahbreeze, a New Zealand representative, and athlete with a lot of experience, came up big for the team excelling in all three areas - pitching, fielding, and batting. Skylahbreeze, the MVP, deserved to win. Of course, the team also expressed their gratitude to their coaches, Mr Faunt, Ms Faunt, Ms Murray, and Mr Bob Mitchell, who supported them behind the scenes and found sponsors to help reduce the cost so that the girls could attend. "For me, winning the nationals was a proud moment because as a student I could never get it done - we never won a championship. Watching the girls, it was just so emotional, because I knew how hard they worked for it which is really awesome to see," remarked Coach Ms Faunt.
The college celebrates such a notable win.
SITI KAMAL & NILA VIMALENTHIRAN - NEWS MEDIA TEAM