Senior Academic Achievement Awards
September 4, 2023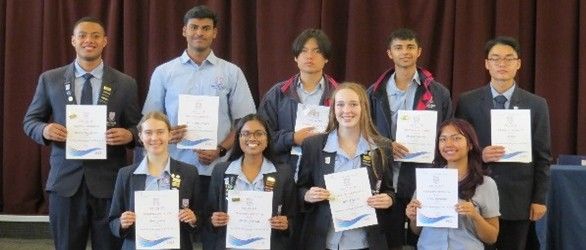 ---
The celebration of One Tree Hill College senior students' academic achievements was held recently where a large proportion of the college's Year 11, 12 and 13 students, who had successfully gained merit and excellence course and certificate endorsements for their 2022 work, were acknowledged. Significantly for the college, their achievements meant that One Tree Hill College was ranked several levels higher than the national mean. At the senior school assembly, students were presented with a badge, certificate and a letter of congratulations from Principal, Mr Coughlan. Merit-endorsed pupils were awarded a silver badge whereas those endorsed with excellence were given a gold badge. Each presentation was warmly applauded by the large gathering of enthusiastic peers, parents, and teachers.
Unfortunately, many of the endorsed students from the class of 2022 have since graduated and begun their tertiary studies, therefore preventing them from attending the ceremony. However, Mr Coughlan explained that he had emailed them in recognition of their outstanding achievements last year. Mr Coughlan was so proud of the students' success and commented, "It was wonderful to celebrate the achievements of 160 students who were endorsed with either merit or excellence in NCEA last year. This is an exceptionally high proportion of our students achieving at the highest levels possible. It is great to have so many students who can now wear their Academic Excellence badges with pride around the school to encourage and inspire others". 
A massive congratulations to all senior students and the few junior students who achieved NCEA endorsements in 2022. Their hard work is recognised, especially their determination and work ethic while facing the struggles of the COVID pandemic. In this, we also acknowledge the enormous work by all the teachers who pushed our students to strive higher, despite COVID difficulties, enabling them to gain such outstanding achievements. To all students who had strived for higher things, we recognise and commend you for your academic success.
MERLYN SEELAM - NEWS MEDIA TEAM